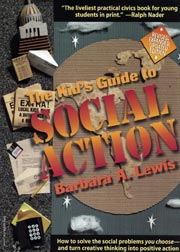 The Kid's Guide to Social Action
While Supplies Last!
Barbara A. Lewis

Kids make a real difference in the world, and this book helps them get started. By using the ideas for working with government, as well as the step-by-step guidance on letter writing, faxing, e-mailing, Internet research, interviewing, speechmaking, surveying, fundraising, media coverage, and more, kids can get involved-and get results.
Free Spirit Publishing. 1998. 211 pp. #4550103.