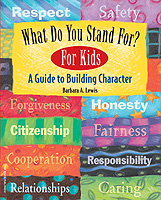 What Do You Stand For? For Kids: A Guide to Building Character
While Supplies Last!
Barbara A. Lewis
Even elementary school children can build positive character traits like caring, citizenship, cooperation, courage, fairness, honesty, respect, and responsibility. The true stories, inspiring quotations, thought-provoking dilemmas, and activities in this book help kids grow into capable, moral teens and adults. Previously titled Being Your Best, this award-winning book has a fresh new cover and updated resources.
Free Spirit. 2005. 172pp. #4550114