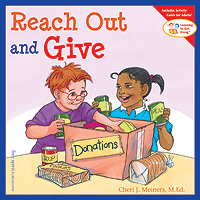 Reach Out and Give
While Supplies Last!
Cheri J. Meiners, M.Ed.
Even very young children can help to make the world a better place. This book begins with the concept of gratitude, because feeling grateful is a powerful motivator. Words and pictures show children contributing to their community in simple yet meaningful ways. Includes discussion questions, a philanthropy role play, generosity games, and ideas for service projects.
Free Spirit. 2006. 40pp. #4550119