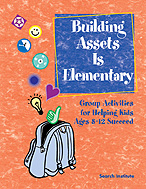 Building Assets is Elementary: Group Activities for Helping Kids Ages 8-12 Succeed
While Supplies Last!
Rita Welch, M.Ed., Tenessa Gemelke
With one foot still in the childish, fun-loving, game-playing stage and the other foot cautiously stepping into a world of more choices and greater responsibilities, fourth-sixth grade students will light up at this creative collection. The sixty-one activities blend guidance, wisdom, and the practical skills of building assets in their changing lives with engaging fun. Activities are flexible so group leaders can easily adapt them to any classroom or youth group setting.
Search Institute. 2004. 128pp. #4910104