Inspire citizenship in your students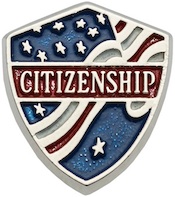 NASSP and NAESP proudly present the American Citizenship Award program. The award honors any student in elementary, middle, or high school who has shown by their words and actions that they possess the qualities and characteristics we hope to instill in all our students.
The American Citizenship Award pin allows you to reward students who:
Participate in school and/or community service
Show a positive attitude toward classmates, school, and the community
Display an understanding and appreciation of civic responsibility
Possess strength of character and the courage to do what is right
Promote citizenship with their school or community through other activities
The pins are available for $3.50 each or $3.00 each when you purchase 10 or more.
Order now to have them on hand for recognition ceremonies in your school.
If you need additional information, including questions on placing an order or questions pertaining to invoices or shipping, please contact NAESP at 877-897-4784.